RIMS Risk Maturity Model (RMM)
Benchmark the maturity of your enterprise risk management (ERM) program and create a roadmap for improving performance.
Take the RMM Assessment*
*You must be logged in to take the assessment.
What is the RIMS Risk Maturity Model?
The RIMS Risk Maturity Model (RMM) is both a best practice framework for enterprise risk management and a free online assessment tool for risk professionals. The RMM allows you to assess the strength of your ERM program and make a plan for improvement based on your results.
After taking RIMS RMM, your organization will be provided a maturity report and an actionable set of guidelines that can help you begin improving your ERM program immediately. Empower your organization by taking these best-practice steps towards a successful and efficient risk management program that can improve business performance.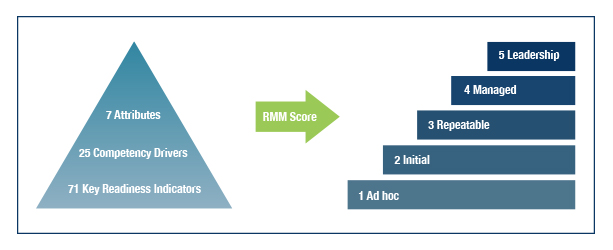 "Our organization has benefitted from RIMS by using the RIMS Risk Maturity Model. With that tool, we found out the areas of opportunity we still have, along with our current status (half-way to full maturity). Thanks to the insights from the RMM, and from connections made at RIMS events, we have been able to find the right consultants for our needs (specifically, business continuity and crisis management solution providers)."

- Adrian Castillo Cisneros, Enterprise Risk Manager, CEMEX
(CEMEX is a global building materials company that services customers and communities in more than 50 countries.)

How it Works
The RMM assessment scores your program on seven attributes of ERM maturity, with 25 competency drivers and their underlying key readiness indicators.
You can use the RIMS State of ERM Report to benchmark your RIMS RMM maturity score against peers in your industry and track progress over time, all while executing an actionable plan for success.
Benefits of Taking the RMM
Receive a personalized report for your RMM maturity score, which highlights your performance on each of the model's 25 ERM competency drivers.
Access risk management insights based on data collected from thousands of organizations by downloading your complimentary copy of the RIMS State of ERM Report.
Become eligible for the RMM Recognition Program, which recognizes leaders in enterprise risk management on an annual basis.
In 2005, the RIMS Risk Maturity Model was authored by Steven Minsky, CEO of LogicManager, with contributions from the RIMS ERM Development Committee. LogicManager, the leading provider of ERM solutions and creator of its own innovative risk maturity model, donated its intellectual property, expertise and services for the development of the RIMS Risk Maturity Model, which was then published by RIMS in 2006. The corresponding RIMS State of ERM Reports are authored by Steven Minsky with contributions from members of the RIMS Strategic and Enterprise Risk Management Council, and published by RIMS.