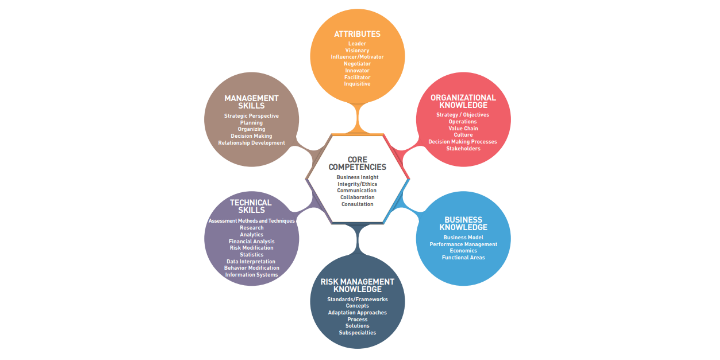 The core competency model was recently redesigned and re-released by the Risk and Insurance Management Society (RIMS), with key contributions coming from the Rising Risk Professionals advisory council and the Enterprise Risk Management Committee.
This model can be used by RIMS members for position definition, professional development, communication and many other purposes.
It is a dynamic rather than static model to be reviewed every two to four years as business and risk management environments change. The model consists of key skills and knowledge that will help a risk manager thrive. The diagram represents different skill sectors and does not connote different levels of importance or an evolution in an individual risk manager's expertise.
Following the model is a description of the individual skills.
Risk managers of all levels must know their own industry dynamics, its economics, operations, staff, customers, competitors and other business partners and stakeholders.
Interested in Downloading?
In order to access this content, please log in. If you do not have a RIMS account, sign up for one today.
Login / Sign Up