RIMS Benchmark Survey
How much did businesses pay to cover the total cost of risk (TCOR) for 2018? What factors drove the change in TCOR? Find out in the 2019 RIMS Benchmark Survey!
Purchase Now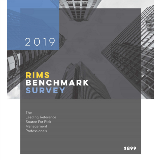 The RIMS Benchmark Survey™ is the leading source of market intelligence for risk management decisions. It is a single source of benchmark statistics with industry data for more than 5,000 insurance programs from 570 organizations – many of which are Fortune 500 companies. ​
RIMS and Advisen offer risk managers, insurance brokers and underwriters the first and only real-time window into the commercial insurance market. The survey captures information on the state of the insurance marketplace and provides t​he only independent fact-based review of the cost of risk to insurance purchasers—unbiased by brokers or insurers involved.
The RIMS Benchmark Survey provides the data and insight to:

Shape your understanding of the market.
Hold more informed and productive discussions among risk managers, brokers and underwriters.
Explain the market to internal management.
The Survey, an annual summary of the data received during the previous calendar year, offers professionals a broad view of the industry. Whether you are answering questions about your competitors, the market cost of a line of insurance or providing budget projections, the RIMS Benchmark Survey is your tool for the most complete analysis possible.
To order older editions of the Benchmark Survey, please contact Lindsay Cryer at +1-212-897-4839.
The data collection period for the 2020 Survey is now closed.
Why should you contribute to the RIMS Benchmark Survey?
Because it's the tool you want when it comes time to renew your insurance policies. It shows you how much coverage companies are buying, and what they are paying for that coverage. It is the only independent fact-based review of the cost of risk to insurance purchasers. The insurance market has seen a lot of changes this year, and we're tracking the data to see what trends will emerge in 2020.
There are several ways to contribute:
As a thank you for contributing your data, you'll receive the complete survey when it is published (an $899 value).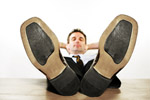 No time to input the data?
Send your SOI to Advisen Ltd., for express data input at no cost, or have your broker contribute on your behalf. Call us at 212.897.4839 to find out how!
Get Your Free Survey
Receive a complimentary copy of the survey when you contribute your organization's insurance policy data. Surveys will be mailed at publication. To order additional copies contact benchmark@rims.org or call +1.212.897.4839
* A contributor is a risk professional who contributed two or more years insurance policy data (including effective and expiration dates, premiums, limits, retentions and insurer names), for two or more coverage types (e.g. management liability, liability, or property). To qualify for contributor pricing when you purchase the product, your data must already have been submitted and approved as complete; data contribution must coincide with the calendar year of the book.
Testimonials
"Besides the access to independent, third-party data from a credible source? To me as a mid-sized regional agency, [The RIMS Benchmark Survey book] provides me the same national database that the national brokerages can access. Though I sometimes wonder how often they really use this type of data for clients. To me, this is just basic. It legitimizes our coverages recommendations. We espouse it at Howalt+McDowell. 'What limit of liability should I carry?' We use the book to show what others are carrying for D&O or umbrella, for example. The book is another source. It's pretty good relative to what's available. While no Benchmark survey is perfect, this data is extremely useful and handy. I am not aware of other studies like it besides what the national brokers publish on their own for certain industries"
- Jeff Scherschligt, CEO of Howalt+McDowell
"The RIMS Benchmark Survey gives invaluable benchmarking information for limits and retentions. Management is always asking, 'what's everyone else doing?' This book gives us the ability to look at our industry, to look at our peer group by revenue or employees, to see what other companies are carrying or how they are structuring their programs. It also gives top management a comfort factor to know that we're not too far off the mark. We like the administrative costs section to help arrive at Total Cost of Risk, and the brokerage section is an important addition because that is a discussion that comes up every single year, and now you have something objective that you can look at…"
- Len Resto, Director of Risk Management for Global Crossing's
Questions?
Email us at CST@RIMS.org or call us at 212.286.9292