Risk Management Magazine: Risktech Edition
RIMS has published the new Risk Management Magazine Special Risktech Edition. This digital publication will feature risk management content that is curated for risk professionals who want to boost their knowledge of risktech. Attendees of the RIMS Risktech Forum on December 9 in New York City will receive first access to this complimentary special digital edition of the magazine.
If you did not attend RIMS Risktech Forum, you may request a copy of this special edition digital magazine. Please create a free RIMS profile online. After you create your profile, we will email you when this publication is available for everyone. If you already have a RIMS profile, you do not need to create another.
If you have any questions, please contact the RIMS Client Services Team at CST@RIMS.org.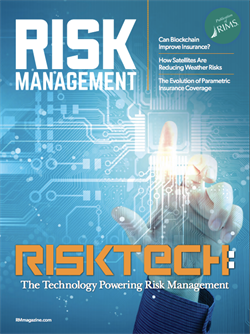 AN AWARD-WINNING PUBLICATION




Magazine Contents
Columns
2 Can AI Transform Compliance?
Artificial intelligence and other advanced tools may help modernize compliance departments.
6 Mitigating Construction Risk with Technology
New technology offers promise for reducing worksite hazards.
8 Building an EERM Toolkit
New tools can assist extended enterprise risk management implementation efforts.
Features
10 Can Blockchain Improve Insurance?
Applications of distributed ledger technology promise to help reduce fraud and better manage claims in the insurance industry.
16 The Evolution of Parametric Insurance
The insurance industry is creating new applications for index-based coverage.
20 Mini Meteorologists
Constellations of smaller, cheaper satellites promise better, more timely weather data for businesses across a range of industries.
26 Strengthening the Links
Amid increasingly frequent and costly recalls, many companies are looking to blockchain for help managing supply chain risk.