Professional Development Podcasts
RIMS audio podcasts provide quick and helpful insights and practical, easy to implement ideas on various topics and issues important to risk managers. RIMS is happy to provide these informational podcast free of charge. In addition, RIMS has launched a new podcast series called RIMSCast.
Listen to RIMSCast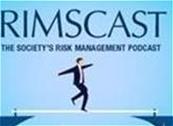 RIMSCast
RIMSCast comes to you from Conference Room B at RIMS headquarters in New York City. This program speaks with the leading experts in the risk world, and has important news and updates from your favorite risk management association.
Learn More