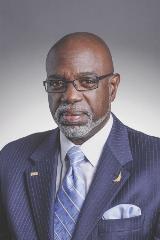 Throughout my presidency, I've challenged risk professionals to think about the mark they'll leave on the Society, on the profession, in their organizations and with their colleagues. And, while the challenge was made, the path to find those impact opportunities is not always easy to identify. RIMS is proud to give members opportunities to contribute and take an active role in shaping this profession and their careers.
Those opportunities can come by sharing your expertise and contributing to the development of new publications. Just this month, RIMS published two new reports. I would like to thank RIMS Members David J. Young, Christine Novotny and Julie Cain who collaborated on the
"Communication with the C-Suite and Board"
report, as well as the authors of the
"Guide to Cyber Insurance."
Both reports are available for members in
RIMS Risk Knowledge
library. If this is how you'd like to make an impact, email content@RIMS.org with your ideas.
Another way to make an impact is by becoming actively involved in the advocacy process, especially when it comes to regulation impacting our organizations and the profession. On September 12 – 13 in Washington D.C.,
RIMS Legislative Summit 2018
will commence. At the two-day event, we will take a closer look at cyber regulation, the looming expiration of the National Flood Insurance Program and the Terrorism Reinsurance Act (TRIA). We're excited to welcome keynote speaker Congressman Dennis Ross (Florida) and present you with this opportunity.
Whether it is as an attendee, an exhibitor or a speaker, our global network's contributions enable us to deliver the best risk management events in the world. In September, RIMS' regional events kick into high gear.
RIMS Australasia Summit
was held in two cities last week, with programs in Sydney and Auckland.
RIMS Western Regional
is in Portland and will feature thought-leading, globally relevant risk management content, as well as insight on topics that are a priority to local community. Rounding out the month is
RIMS Canada Conference
. Much like the theme suggests, our Canada Conference offers "Oceans of Opportunities." It is the biggest risk management event in the country and the setting couldn't be more spectacular in St. John's, Newfoundland & Labrador.
We're calling on our global members to make an impact as well. Last week, we began accepting presentation submissions for
RIMS India Forum 2018
scheduled for November 13 – 14 in Mumbai. This will mark RIMS' first Forum in the country and we're excited to meet with our already extremely engaged risk management community there.
RIMS is proud to offer so many different resources to so many different types of professionals. Most importantly, we're proud to offer opportunities for them to get involved, to make an impact and to leave a mark on this amazing profession for years and years to come.
Sincerely,
Robert Cartwright, Jr.
RIMS 2018 President