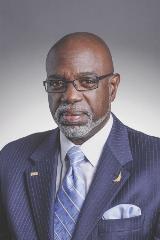 To welcome newcomers to the island of St. John's Canada, tradition insists that visitors take part in a fun "Screech-In" ceremony and kiss a codfish. Let's just say, I was officially welcomed to the RIMS Canada Conference in St. John's, Newfoundland this past month – and have pictures to prove it.
Once again, the annual conference provided the country's risk professionals with ideas, best practices and resources to excel back home. But, also, set in one of Canada's most beautiful scenic regions, the conference was eye-opening. Not only were attendees introduced to a very vibrant and unique way of life, but it reinforced the diversity of the RIMS network.
As the Society's leadership visits with our chapters and participates in global industry events, we are constantly learning about each community, the local business environment and the challenges risk professionals are facing.
Recently, I was invited to be the keynote at the National African American Insurance Association's annual conference in Atlanta, as well as at Gallaudet University in Washington, D.C. Each of these opportunities is a chance for me to share my experiences with energized audiences and the resources this Society offers to support their 21st Century goals.
This week, Mary Roth and I have been asked to contribute to the Institute of Risk Management South Africa's (IRMSA) Annual Conference in Johannesburg and Cape Town. We are very excited to support IRMSA, who has designed their conference program around the seven attributes of RIMS Risk Maturity Model. While our presentations cover the future of the risk management profession, the impact of disruptive technologies and the value of a root cause analysis, we are there to learn. We are excited to collaborate further with IRMSA as we aim to support the advancement of risk management around the globe.
Our global education continues later this year in Mumbai. Building off the success of RIMS Risk Summit in Mumbai in September, the Society has announced the dates (November 13 and 14) and opened registration for RIMS Risk Forum India. The Mumbai Summit brought together 30 risk management professionals to discuss top concerns for organizations in the region. With the insight we gained, we're excited to develop a valuable and engaging program for India's risk management community next month. We are also proud to announce RIMS India ERM Award of Distinction, to be presented at the Forum.
In addition to our international initiatives, recently, RIMS held its pilot exam for the RIMS-CRMP-Fed, the micro-credential that supports risk professionals in U.S. government positions. Next week, the Society will open its annual call for committee volunteers and the nomination process for its annual awards program. For additional information about the RIMS-CRMP certification and micro-credential, visit here. Details about awards RIMS will present next year can be found here.
We sincerely thank those of you who routinely share with this community and encourage others to get involved. Your perspectives, cultures and professional skills allow RIMS to deliver a truly diverse sampling of risk management knowledge in a wide-range of formats.
Together, we have the power to advance this profession and create a legacy of greater opportunities for tomorrow's business leaders.
Sincerely,
Robert Cartwright, Jr.
RIMS 2018 President