Anita Benedetti Student Involvement Program
Each year, RIMS sponsors 30 students in the US and Canada, and 6 international students (not enrolled at a university in US & Canada) to attend the RIMS Annual Conference & Exposition. This program is thanks to a generous contribution from the Spencer Educational Foundation. For more information on Spencer, please visit: https://www.spencered.org
Congratulations to the 2022 ABSIP Scholars
Abby Daunt, Florida State University
Alexis Rossilli, University of Akron
Alfonso Tello, University of Wisconsin-Madison
Aliyah Abdullah, University of Hartford
Anne Bowen, Indiana State University
Bailey Bennett, Troy University
Claudia Matilda Vevera, Florida State University
Daniel Landaverde, University of North Texas
Emily Giles, University of North Texas
Emily Jung, University of Calgary
Emily Selenis, Illinois State University
Ethan Flynn, Ball State University
Geoffrey Fong, University of Southern California
Hawreen Rawanduzy, University of Colorado-Denver
Joshua Rose, Missouri State University
Juan Carlos Pedroza Sanchez, Universidad EAFIT (Colombia)
Katherine Alexander, University of Wisconsin-Madison
Kristian Mariano, St. John's University
Kristy Fugel, University of Calgary
Madeline Lang, University of Alabama
Maroun Harb, St. Mary's University
Natalia Perez Munoz, Universidad EAFIT (Colombia)
Nathan Chandler, University of North Carolina-Charlotte
Nicole Sabin, Illinois State University
Rachel Balz, University of Georgia
Rebecca Leigh, Georgia State University
Rudrawar Prasad Pandurangrao, NIA Pune (India)
Sophia Marcum, University of Akron
Sri Priya Varshini, NIA Pune (India)
Sumeet Hiralal Prajapati, NIA Pune (India)
Tanvi Yadav, University of Southern California
Tiffany Li, University of Georgia
Victoria Pommelis, Georgia State University
Zane Smith, St. Mary's University
Zixin Chen, Lingnan University
Zoie Walters, Olivet College
Nominate our students to be an ABSIP Scholar
In 2023, RIMS will sponsor 30 students in the US and Canada, and 6 international students (not enrolled at a university in US & Canada) to attend the RIMS Annual Conference & Exposition.
Nomination Period Opens: September 2022
Nomination Period Closes: December 2022
Nomination Overview
RIMS invites your institution to submit a maximum of 2 student nominations to participate in our Anita Benedetti Student Involvement Program. The selection process includes nomination by a department head of a university or college and a review of the nomination and support materials by the RIMS Student Advisory Council.
Student sponsorship includes
Complimentary conference registration for nominating professor or department head to mentor student(s) at the event
Complimentary conference registration for students
Hotel accommodations for students (two students to a room)
Breakfast, lunch, and some evening meals for students and nominating professor or department head mentor
$650 cash stipend for students to cover travel and incidental expenses.*
(*Stipend amount will be different for international students.)
Anita Benedetti scholars will receive mentorship; participate in stimulating conference sessions, gain valuable career development skills, and network with members of the SAC (practicing risk professionals), RIMS Board of Directors, insurers, brokers, and other industry professionals.
ABSIP Scholars & members of the RIMS Student Advisory Council
Questions?
For more information about the competition, please contact Will Gilchrist at ABSIP@RIMS.org or (212) 655-6031.
History of ABSIP
The RIMS Student Involvement Program was initiated as a pilot program at the 1978 Annual Conference in New Orleans. Due to the overwhelming success of this project, a standing committee was created, and the program has become a permanent part of the RIMS Annual Conference. In 1997, the name was changed to the Anita Benedetti Student Involvement Program to honor the late Anita Benedetti, former Deputy Executive Director of the Risk and Insurance Management Society. Inc. (RIMS) and President of the Spencer Educational Foundation, Inc.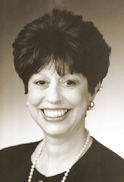 Anita Benedetti