RIMS-CRMP Stories
Carrie Frandsen on Contributing to the Advancement of Risk Management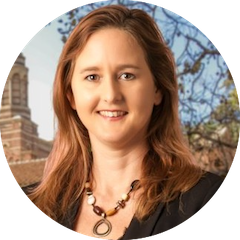 Managing Enterprise Risk Management (ERM) at the sprawling University of California (UC) system is the responsibility of Carrie Frandsen. Frandsen passed the inaugural RIMS-CRMP exam in 2016 and continues to benefit from the knowledge gained. She discussed how the certification has impacted her career and her goals as a member on the RIMS-CRMP Certification Commission.
RIMS: What motivated you to take the RIMS-CRMP exam in 2016?
Frandsen: At the time, I was fairly new in my role in leading enterprise risk management at UC. The RIMS-CRMP requires a broader level of knowledge than a designation such as the CRM or ARM. Achieving the certification helped demonstrate to myself and others that I possess the requisite knowledge to succeed in that role. Also, I consider myself a life-long learner. After acquiring an MBA and the ARM-E designation, the RIMS-CRMP seemed like a natural next step in my professional development and career.
RIMS: What was the experience like for you?
Frandsen: It was pretty straightforward. I had the professional experience, and I'd done a lot of related reading over the years. So, I focused my study on areas where I had less familiarity, and on test day I felt well prepared.
RIMS: How has the RIMS-CRMP enhanced your professional profile?
Frandsen: When I see other risk management professionals with the RIMS-CRMP certification, it validates that they have the requisite experience and technical knowledge to successfully apply risk management frameworks, tools, and solutions to support risk-informed decision-making. And the RIMS-CRMP certification is the only risk management certification in the world to hold an accredited status, which holds a certain weight.
RIMS: How does the knowledge you acquired from studying help you in your daily responsibilities?
Frandsen: The activities of the RIMS-CRMP domains, from 'analyzing the business model' to 'supporting decision-making', reflect the work that I do every day as a risk management professional.
That knowledge gives me confidence that the risk management activities and tasks that I perform meet professional expectations. I also continue to build on that knowledge by keeping up on the latest trends in the profession – that's what re-certification is about.
RIMS: Speaking of which, what has your experience been like for recertification?
Frandsen: I have just submitted my re-certification points recently. I referred to the RIMS-CRMP Re-certification Handbook to remind myself of the types of continuing education activities that qualify for recertification. I manage an ERM program, and I teach and present on risk management, which are all high-point activities, so it's not difficult for me to rack up 50 points in two years. Attending a risk management conference or webinar also counts towards the recertification points.
RIMS: What advice do you have for anyone studying for the test now? What study habits or tips would you like to share?
Frandsen: I'd suggest starting with the RIMS-CRMP Study Guide – it has test prep strategies, and self-assessment and sample questions for each domain. Once you have identified your study plan and focus, I'd look at the recommended reading list for study ideas. There are also more structured options to prepare, from a self-paced RIMS-CRMP self-study course to two-day RIMS-CRMP exam prep workshops, or more in-depth risk management programs for those just starting out.
In fact, I am an instructor at UCLA Extension, which offers four courses in an Enterprise Risk Management certificate program. The courses are aligned with the RIMS-CRMP domains to help candidates prepare for the exam, so students have an opportunity to earn their certificate in ERM and their professional RIMS-CRMP certification once they have passed the exam and met all the requirements.
RIMS: What would you like to achieve on the RIMS-CRMP Commission? What are some of your goals for 2022?
Frandsen: I joined the Commission four years ago as a way to contribute to the advancement of the profession. We have achieved a lot in that time: developing the Federal Government micro- credential RIMS-CRMP-FED, partnering with higher educational institutions on test prep, offering a remote exam option, and refreshing the recommended reading list.
RIMS: How are you ensuring the RIMS-CRMP meets the evolving needs of risk professionals?
Frandsen: Good question. Members of the Commission and other risk management subject matter experts, periodically perform a job task analysis, to validate and update the skill and knowledge requirements of the RIMS-CRMP domains. We are just about done with the latest update, which reflect current best practices in the risk management profession.
RIMS recently spoke with Frandsen to discuss how she helped develop ERM across the UC system in the RIMS ERM Q&A Series.
Interview by Justin Smulison, RIMS Business Content Manager