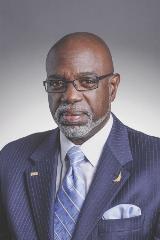 NEW YORK (January 2, 2017) — RIMS, the risk management society™, today announced that Robert Cartwright, Jr. CRM, BSB/OP will lead the Society as president for the 2018 term, effective January 1.

Mr. Cartwright is the Division Manager of Environmental, Health, Safety and Sustainability for Bridgestone Retail Operations in the Northeast Region. He has been a member of RIMS for more than 25 years and on its Board of Directors for ten years. Mr. Cartwright has held every Board position with the RIMS Delaware Valley Chapter, including serving as its president from 2005-2007. He was also the recipient of the 2009 RIMS Richard W. Bland Award for exceptional contributions to the Society's legislative initiatives.

"In order to advance the risk management profession we must recognize those who came before us," said RIMS 2018 President Robert Cartwright, Jr. "Risk management has evolved leaps and bounds from just a decade ago and that progress is a direct result of our predecessors' passion and perseverance.

"Today, industry professionals have the same opportunity to become trailblazers, increasing organizational awareness of risk management's diversity and value. As we work to establish our individual legacies, together we will strengthen and solidify the collective legacy of the global risk management community."

Officers on RIMS 2018 Board of Directors:
President: Robert Cartwright, Jr., CRM, BSB/OP; Division Manager, Northeast Region, Environmental, Health, Safety and Sustainability, Bridgestone Retail Operations, LLC.
Vice President: Steve Pottle, CIP, CRM; Director Risk Management Services, York University.
Treasurer: Gloria Brosius; Corporate Risk Manager, Pinnacle Agriculture Holdings.
Secretary: Robert Zhang; China Risk and Compliance Manager, IKEA (China) Investment Co., Ltd.
New Board Members:
Susan Hiteshew, RIMS-CRMP, ARM; Senior Manager, Global Insurance and Risk Financing, Under Armour, Inc.
Kristen Peed, CPCU, RPLU, CRM, ARM-E, CIC, AAI; Director of Corporate Risk Management, CBIZ, Inc.
Jennifer Santiago, RIMS-CRMP, ARM; Director, Risk Management, Novartis Pharmaceutical Corporation.
Patrick Sterling, SPHR, SHRM-SCP; Senior Director, Legendary People and Risk, Texas Roadhouse.
Incumbent Board Members:
Emily Cummins, CPA, CPCU, CISSP, ARM, ARE; Managing Director of Tax and Risk Management, National Rifle Association.
Barry Dillard; Director, Claims Management, Walt Disney Parks and Resorts US.
Ellen R. Dunkin, Esq.; Senior Vice President, General Counsel & Chief Risk Officer, Amalgamated Life Insurance Company.
Laura Langone, JD, MBA; Senior Director, Global Risk Management and Insurance, PayPal, Inc. Holdings.
Soubhagya Parija; Senior Vice President and Chief Risk Officer, New York Power Authority.
Ex Officio: Nowell R. Seaman, RIMS-CRMP, FCIP, CRM; Director, Global Risk Management, Potash Corporation of Saskatchewan Inc.
For more information about RIMS leadership, visit www.RIMS.org.