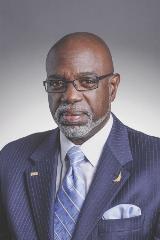 In the beginning of February, we held a Presidents Call that gave your chapter leaders the chance to hear about the Society's strategic direction and, more importantly, ask questions and offer input. A month later, the conversations are still going and the exchange of ideas has been fantastic. Our second President's Call is scheduled for March 29 and an invitation to chapter volunteers will go out shortly.
The more feedback we receive from RIMS' network of professionals, the stronger the Society and its resources become.
Diversity and Inclusion initiatives are also a priority. And, RIMS 2018 Annual Conference & Exhibition is the perfect venue to celebrate our members' different experiences, backgrounds and perspectives.
At RIMS 2018, the Society will host a selection of Diversity and Inclusion opportunities, events and educational programming including:
RIMS Diversity Meet-Up on Sunday, April 15
Education sessions:

The Journey of the African American Insurance Professional
Diversity Training: How to Handle LGBTQ Issues with Cultural Sensitivity
Diversity and Inclusion: The Risks and Opportunities

Programming specific for the multinational group of 37 Anita Benedetti student scholars
Our Risk Manager of Year and Honor Roll inductees will share their very different experiences and successes that led to this honor
This month, RIMS also announced a RIMS-CRMP certification project aimed at supporting a very specific group of risk management professionals. Working with the Association for Federal Enterprise Risk Management, the Society announced plans to develop the RIMS-CRMP-FED. This micro-credential will addresses the breadth of risk management responsibilities and supports professionals in federal government.

Right now, preparation for RIMS 2018 is in full-gear. We are very excited to welcome 10,000 professionals from more than 70 countries around the world to San Antonio. Thank you all for your continued support and we look forward to seeing you in April.
Sincerely,
Robert Cartwright, Jr.
RIMS 2018 President