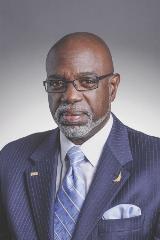 RIMS 2018 Annual Conference in San Antonio
was a huge success. We can't thank those of you who joined us enough for making the 56th Annual Conference such an amazing experience. We hope that you were inspired by all the BIG ideas shared, made some great connections and are now better prepared to take on your next BIG challenge as you execute "Your Plan."
The
Diversity and Inclusion programming
at RIMS 2018 was definitely a bright spot of the event for us. It was apparent by the standing-room-only sessions and meetups that these opportunities are important to our members. I anticipate that programming that focuses on this important issues will remain a staple of the Society's offerings for years to come. Presently, I am involved with events held by
NAAIA
, AIG and starting collaborations with Zurich and AJG and that was MY PLAN to do more with Diversity and Inclusion.
You probably also noticed the record number of
students
at RIMS 2018. Our Spencer-RIMS Risk Management Challenge teams were exceptional (congratulations University of Wisconsin-Madison) and our Anita Benedetti Student Involvement Program attendees further proved just how bright the future is for the profession.
I challenged attendees to think about their careers and their plan for the future. I invited new risk professionals to reach out to industry veterans – like myself and RIMS Board of Directors. I have to say, the response has been fantastic. Our next step is to move ahead with the
Opis
Mentor/Mentee match as a good number of rising risk professionals have embraced this challenge and I am excited to work with them and see their careers continue to progress.
The energy and excitement of RIMS 2018 did not end in San Antonio.
RIMS Content Team captured insight from speakers at the conference's most attended sessions. We look forward to sharing a series of videos that highlight hard-pressing trends in risk management over the course of the coming year.
Additionally, this week, I attended the
RIMS Risk Forum Latin America
held in Mexico City. RIMS and Marsh are excited to release the findings from our joint
Risk Management in Latin America report
– that is available in three languages. As always, our goal is to learn as much as we can from risk professionals in these regions and develop resources that address their unique needs.
From Mexico to China. Later this May at the Shanghai Forum, Insurance Sub-Conference in Shanghai, RIMS Board Director Robert Zhang and myself will deliver keynote addresses about disruptive technologies and their impact on the risk management profession. The presentation will feature some of the key takeaways from our
Excellence in Risk Management Report XV
released in April.
I finally want to applaud our
chapter leaders, volunteers and members
for their tireless contributions to the Society, while managing their day to day jobs and time away from their families. All year round, RIMS global risk management community works together to tackle some of the business worlds' greatest and newest challenges. While all of that risk management power shined big and bright in Texas, the momentum will not stop there. We are moving out of the harbor and setting our course on improving membership engagement and providing resources where needed. I will be sharing more of RIMS' world-class programming with you in the months ahead.
Sincerely,
Robert Cartwright, Jr.
RIMS 2018 President