Axco Insight Risk Manager
Overcome the challenges of regulatory compliance with Axco's Insight Risk Manager, a single, authoritative guide of global insurance regulation information designed specifically for risk managers and insurance buyers. (RIMS Professional Members can now access Axco Insight Risk Manager for free.)
Become a Member
Empowering Insurance Buyers to Act with Confidence
The customizable database allows you to view regulatory requirements specific to your global insurance programs in an easy-to-read Q & A format, ensuring your discussions with brokers are relevant and informed.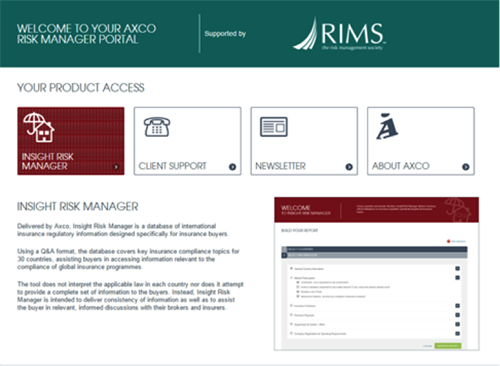 Insight Risk Manager's Key Features Allow You To:
View content on non-admitted positions, policy conditions, reinsurance and more
Select countries and questions specific to your information requirements
Understand the regulatory requirements relevant to your insurance programs
Keep up-to-date with changes in regulation
Generate executive-style reports and easily export to Excel
Free from Bias
Axco's team of consultant writers regularly visit an unrivalled network of contacts within each of the territories covered to gather intelligence and insight ensuring the information collated is truly independent.
Axco is the leading supplier of global insurance market information with 50 years' experience in researching and publishing industry intelligence on insurance and employee benefits.​