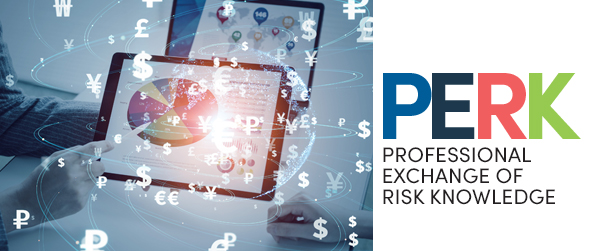 Call for PERKs!
RIMS is looking for sessions for the 2023 Professional Exchange of Risk Knowledge (PERK) program. PERK sessions are free to RIMS chapters and serve as a great opportunity to create awareness of your organization, showcase your company's depth of knowledge, and build valuable relationships with risk management professionals.
PERK sessions generally include a 60- to 90-minute presentation followed by opportunities for interaction. As a PERK partner, you will be among industry leaders who provide high-caliber sessions on cutting-edge topics in the risk management field while gaining exposure throughout the United States, Mexico, and Canada.
If you are interested in becoming a partner, please submit your sessions by Friday, December 16. Any submissions received after this time will not be considered for inclusion in the program.
How to be considered for the 2023 PERK Program:
Submit your session proposal to ChapterServices@RIMS.org by Friday, December 16. Include a title and a brief (three to four sentences) description of the session.

Make sure to include any travel restrictions associated with your participation in the program. Please remember that we prefer for all sessions to be available to all chapters in North America, including Alaska, Hawaii, Canadian Chapters, and the Mexico Chapter. As a reminder, all PERK sessions are free to RIMS chapters and any associated costs are to be paid by the PERK partner.

All new session submissions will be reviewed by RIMS staff and chapter volunteers.

We will contact you before the end of the year to let you know whether or not your session(s) has been chosen for the 2023 program.
PERK partners receive:
2023 PERK Program flyers that will be sent to all chapters in early January.

A .pdf version of the flyer will also be distributed to chapters.

"PERK Partner" signage will be delivered to all PERK partners exhibiting at RISKWORLD 2023.
How to maximize the PERK Program:
Here are just a few tips on how PERK partners can make the most of the program.

Constant communication is extremely important in the PERK Program. After you send a request to the partner contact, please contact the chapter directly regarding their requested date and your availability. It is important to copy RIMS on any correspondence so that we can jump in as needed.

If you need to cancel a session or reschedule please contact RIMS so that we can assist the chapter in finding a replacement speaker.

RIMS has 80 chapters in the US, Canada, Japan, Mexico, Australia, and New Zealand. If you cannot present your session in a particular geographical location please inform RIMS so that we can include that information in our written communication to the chapters.

Update RIMS of any staff changes in your organization that may affect communication regarding the PERK Program.

Notify RIMS of any additional fees associated with your session so that it may be communicated to the chapter.

Distribute the PERK flyer to chapter officers.

Email an .eps version of your corporate logo to RIMS so that it may be added to PERK signage.

Request a "PERK Partner" sign to display at RISKWORLD 2023 and other RIMS events.
Thank you for your interest in participating in this valuable chapter program. If you have any questions regarding the PERK Program or RIMS, do not hesitate to contact us at PERK@RIMS.org.